Swaledale Museum Talks and Events 2013
Please watch the local press for occasional alterations to time/date & posters and, if coming from a distance, please check with the Museum before setting off. Please call 01748 884118 or e-mail museum.swaledale@btinternet.com
---
Friends of Museum Talks at Fremington Sunday School 7.30 pm
£3 for Friends of the Museum, £4 for visitors ALL WELCOME
---
Wednesday 22nd May - Lynda Powell, Director, Green Hoawrds Museum 'The Dashing Volunteer: The Story Behind Private Hammond's Yorkshire Volunteer Regiment Uniform'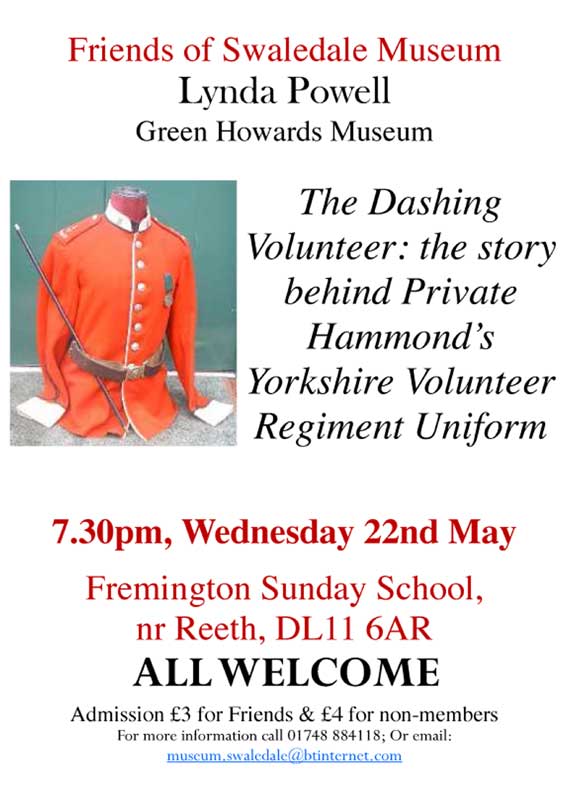 ---
Wednesday 19th June - Dr Geoffrey Hope, 'A Tour Round Dr Speirs's Medical Bag'
---
Wednesday 17th July - Andre Berry, 'A Short History of Peat Spades'
Commercial-scale peat cutting on lowland bogs has frequently made the headlines in recent years because of concerns about the damage to internationally important wildlife and its habitats. As part of the annual cycle of land use, however, hand peat cutting was simply part of everyday life for centuries; because of this, its scale and the significant changes it made to our landscape are often overlooked. This talk will look at the tools, techniques and landscapes of hand peat cutting, with a focus on the Yorkshire Dales, but encompassing northern England more generally and Wales.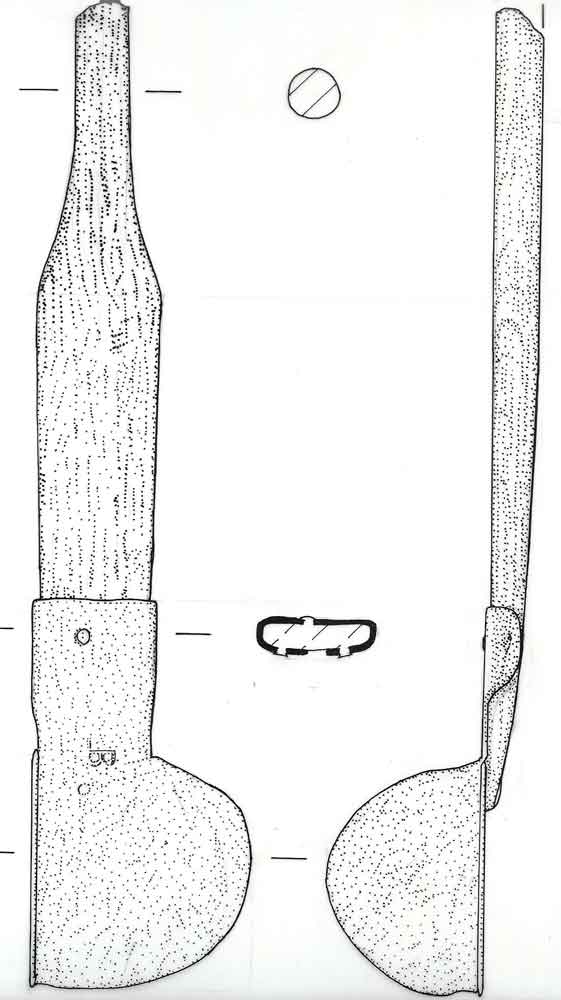 Biography: Although trained as an Agricultural Botanist, André Berry has spent most of his career advising on the management of archaeological sites and historic landscapes. His fascination for all things peat cutting started when he became involved in research into the historic use of Fenn'sand Whixall Mosses, England's third largest lowland raised peat bog situated across the English/Welsh border between Shropshire and Wrexham County Borough. Bringing together and leading a diverse team, André's work culminated in the publication: Fenn's and Whixall Mosses in 1996. Since that time André has had an ambition to research the Landscapes of Peat Cutting more widely, but work has always intervened. He is now making a more concerted effort to fulfil his ambition, currently undertaking research into peat cutting in Wales and northern England, with a view to publishing on the subject in due course.
---
Wednesday 7th August - Stephen Eastmead, Digital Archivist Swaledale Museum
'Introduction to the Swaledale Museum Picture Archive Online Resource'
---
Wednesday 18th September - Helen Bainbridge 'An Evening Underground with John Hardy' - presenting the newly digitised audio and video diaries of John Hardy's lead mining explorations in Swaledale and Arkengarthdale'
---
---
A Pilot Programme from the new Centre for Swaledale Studies

Three seminars on objects found locally that give special insight into the history of Swaledale and Arkengarthdale. These events will begin with coffee/tea in the Museum at 10.30 am followed by presentations and discussion, and finish at 12.30. The idea is to build up a series of case studies, incorporating the most recent research and ideas that reveal the history of Swaledale and Arkengarthdale from Prehistory to the Present. We hope to publish the collective series as a unique guide to the Dales.
Tickets: £10 in advance (£8 for Friends of the Museum and members of SWAAG); £12 on the door, includes admission to the Museum, coffee and tea, and a reading list. Book all three at the same time for £25 (£20 if a Friend of Museum or member of SWAAG).
Places are limited.
Saturday 18th May - Session 1:
Two exceptional local prehistoric finds, their chronology and possible use.
Tim Laurie will launch this series with an investigation of two prehistoric tools found locally, an axe and a hammer.
The first is an Early Mesolithic tranchet axe from Calvert Houses. This axe is very different from the familiar polished stone axes of the Neolithic Period. The Calvert Houses tranchet axe was made from a small boulder of black Pennine chert and is flaked not polished. The cutting edge being formed by striking two opposed flakes from one end. Axes of this type are dated from finds at Star Carr and other excavated sites to around 7,600 BC and were the most characteristic artefact of the the Early Mesolithic or Hunter Period. This find is the earliest stone artefact yet to be recognised from Swaledale.
The second is a Late Neolithic metal working whetstone/hammer associated with rock art from Barningham Low Moor. This small finely polished whetstone or hammer was found on an erosion surface close to a group of cup-marked rocks on Barningham Low Moor. This whetstone has rounded edges and one edge is carefully bevelled. Whetstone/hammers exactly similar to this have been found together with other grave goods within burials of Late Neolithic date. This find is a rare example of an artefact found in direct association with rock art.
We are delighted to be working with Richmond Museum who are kindly lending one of the objects from their collection.
Saturday 22nd June - Session 2:
This seminar will discuss the results of work by SWAAG - the Swaledale and Arkengarthdale Archaeology Group - in 2009-2013 on a site at the Hagg near Fremington. Stephen Eastmead will introduce the site and surrounding area and focus on the excavations of 2012-13 (the latest scheduled to finish the day before the seminar) which have revealed a Romano-British settlement of circular structures occupied until towards the end of the 4th century: few such late dates have so far been found in the Dales. Peter Denison-Edson will then discuss the late-Roman pottery (principally Crambeck and Huntcliff-style ware) and glass finds from the site and the possible implications for the interaction of the occupants with the Roman economy, society and culture.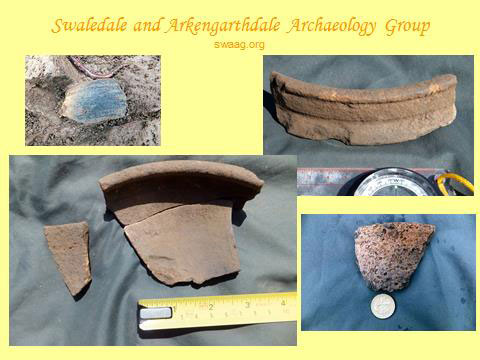 Saturday 6th July - Session 3:
Medieval Glass Fragments from Marrick Priory
This seminar will focus on a small group of plain glass fragments deposited in the Swaledale Museum by the Rev. Bailey in 1978, and simply described as 'Medieval Glass from Marrick Priory'. Of various colours, thicknesses and bearing beautiful surface iridescence they are a bit of a mystery. This session will consider the pysical evidence of the fragments themselves, reporting on X-ray fluorescence analysis; the circumstances of their excavation via material supplied via the Yorkshire Dales National Park Authority and their historical context at Marrick. Ashley Tallyn from the Archaeology Department at Durham University will set them in the context of her doctoral research into Medieval nunneries, and what they were like to live and work in.
All sessions will take place in the Swaledale Museum, Reeth: 10.30 - 12.30
MISCELLANEOUS EVENTS

The Museum will open for the 2013 Season on 29 March
It will be open every day from 10 am to 5 pm, except Saturdays, and on Sundays it will from 12 pm until 5 pm.
On advertised Fridays there will be special late night opening until 8pm, with short talks and tours by the curator.
---
Second Marvellous Magic Lantern Slide Show in Reeth Memorial Hall
Saturday 15th June 7.00 pm
---
Celebrating Local Archives Day, Low Row Institute
Saturday 29 June 10.30 -3.30 DRAFT PROGRAMME
10.30 Coffee & Registration

11.00 - 11.30
Keith Sweetmore, 'An Archivist's Legacy: the published works of Elizabeth Berry'.This paper will review the published works of Elizabeth Berry, spanning more than fifty years. A respected professional archivist, and a competent local historian, Elizabeth Berry's published works are offered as a chronicle of her life and career.
11.30-12.00
Alan Mills: 'The Reeth Poor Law Union Archives
Reconstructing the Life of Ordinary People in 19th century Swaledale'. Poor Law Union records are an often over-looked source information for those with a research interest in the 19th century. They provide a fascinating insight into the lives of ordinary people at this time. Swaledale is particularly fortunate in that not only do we have the Guardians' Minute Books at the County Records Office but Reeth was one of only 20 Poor Law Unions to participate in a project with the National Archives to digitise and make freely available on-line the correspondence between the Poor Law Union and the Poor Law Commission / Board. This paper will provide a brief look at the impact of the Poor Law on the lives of ordinary people of Swaledale.

12.30-1.30 BUFFET LUNCH or bring your own picnic
1.30-2.00
Jane Hatcher: 'The Wills and Inventories of Robert Willance, of "Willance's Leap" fame, and his wife Elizabeth.' These documents tell us an enormous amount about how an early-17th century northerner could accumulate considerable wealth despite a severe disability, they illustrate a prosperous couple's household in Stuart Richmond, and provide typical examples of middle-class charitable endowment and the desire to be remembered.
2.00 - 2.30
Christine Hallas 'Yeomen, Peasants & Sources in 19th Century Wensleydale & Swaledale'
This paper will examine how to use a variety of sources to understand different types of farmer and farming in Wensleydale & Swaledale. It will use brief case studies to build up a profile and demonstrate how well known & less well known sources can be manipulated in order build up as clear a picture as possible. Sources examined will include: Enclosure Acts; Tithe documents, Valuations; Census Enumerator's Books and Directories
COST £15 for the day and £8 for the Buffett Lunch
PLEASE CONTACT HELEN BAINBRIDGE at the Swaledale Museum in Reeth for more details: 01748 884118
e-mail. museum.swaledale@btinternet.com
---
Third Grand Tea Party in the Orchard, Reeth
Saturday 17th August
---
---
We have a new Programme of Visits, working in conjuction with the Reeth & District Community Bus. Places will be limited.
Tuesday 18th June
Abbeyhorn Works, Holme, Carnforth & Wreay Church, Cumbria
The Swaledale Museum has a small group of horn objects. This visit is organised to help us understand how they were made. In 1991 Paul Cleasby took over the Abbeyhorn Works which traces its descent back to 1749, and uses traditional methods to make horn wares, like bowls and spoons. This visit will include a tour of the workshops and a short history of the firm.
In the afternoon we will visit Wreay Church designed by Sarah Losh, the subject of Jenny Uglow's most recent book, The Pinecone. Learn more about this extraordinary church and its unusual and visionary architecture, and its designer.
COST £20 including transport from Reeth
---
Saturday 13th July
York Medical Society, York

This visit enhances Dr Hope's talk on 'Dr Speirs's Medical Bag'. Founded in 1832 for "The purpose of promoting and diffusing medical knowledge", it is housed within a beautiful Grade II listed building in the heart of York. Thanks to Dr Hope's membership of this Society we have been offered the privilege of a private visit and tour.
COST £18 including transport from Reeth
---
Saturday 7th September
Yorkshire Dales Lead Mining Museum, Earby near Skipton
This visit leads on from Dave Carlisle's talk to the Friends of Swaledale Museum last year. He has kindly offered to give us a guided tour of this important lead mining museum housed in a splendid 16th grammar school, founded in 1594.
COST £18 including transport from Reeth
---